Recap
Canoe/Kayak Treasure Map Adventure
Orienteering at Walborn Reservoir
July 17, 2016
via Event Director Ivan Redinger…
This has been a great event for some time. It continues to be a great event. With ongoing contributions from many of our club members and the spirit of cooperative enthusiasm, mixed with a hint of friendly competition, from so many diverse participants, it will remain a great event in the future. Here's a short list of what made it great this year.
Great weather: Mother Nature smiled broadly upon us, with lots of sun, temperatures in the low 80's, and a nice breeze on the lake.
Great course: well-designed by KJ Rufener and Andreas Johansson. 25 well-placed creative locations for controls, all with whimsical pirate names starting with Smuggler's Point, and continuing through to Davy Jones's Locker. Five mystery controls, with clues that could only be found on one of the original 25 controls, bringing the total to 30 controls. But even great things come with occasional bumps, like the not so great #@#* who made off with Control 13 at "Kraken Point", before any of the participants could even find it, reducing the final maximum point total to 29. Great fun with bonus lottery tickets at some of the controls for the 1st to find them.
Great participants: Veterans and Newbies. Locals, Buckeyes, and Keystone Staters. 13 solo participants and 18 teams of either friends, or couples, or parent and children (both adults and minors). Senior citizens and kids younger than 10, and everything in between. Due to a shortage of available rental watercraft, we even had a runner who bagged almost two-thirds of the controls. Special mention for our youngest soloist, 9 year old Devin Wohlwend.
Great efficiency:  At check-in, Registrar Fran Kern & assistant Chuck St. John, both fashionably attired in the latest in pirate paper cardboard hats, did a great job of quickly processing registrations.
The top three kayak soloists were able to bag all 29 controls, with Alexis Rzewskii and Phillip Wadsworth, doing it in 144 and 139 minutes respectively. Stephen Johnson repeated as champ, finishing in 119 minutes. In team kayaks, father and son Robert & Christian Sincich came in 3rd, behind Tena & Robert Gerdes, with Renee & Mike Whittenberger winning the category. Canoeing teammates Amy Frank-Hensley & Sean Hensley also collected them all, with Jay Williams only 1 control behind, followed closely by Xian Wang & Hung Chun Huang (cool outfit!).
Course Designers & Setters: KJ Rufener and Andreas Johansson
Registrars: Fran Kern & Chuck St. John
Timer: KJ Rufener
Event Director: Ivan Redinger
Control Collection: KJ Rufener, Andreas Johansson, the Wohlwend family, Bob Boltz, Tena & Robert Gerdes Ivan Redinger
Hope all enjoyed their souvenir shark & certificate, and for the winners, their bling & libation.
See ya next year maties!
(And don't forget all our landlubber events too!!!!)
Results
*Finish time – shows actual finish time. Start time was 1PM EST, with 2.5 hour time limit at 3:30PM EST.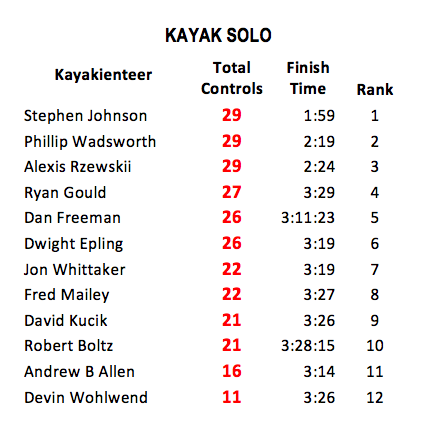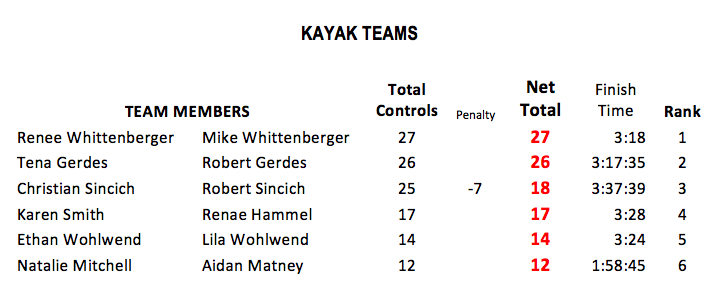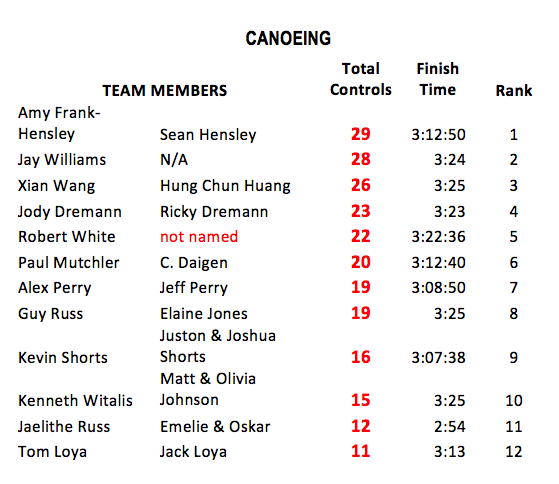 Pictures
For additional excellent pictures, visit Alexis' excellent gallery from the day on Yahoo, or Facebook here, or check out all the wonderful pictures on the NEOOC Facebook page. Not a member? Just ask…
[envira-gallery id="1265″]
Resources & RouteGadget