Register for the 2016 Python!
O-Blog
Find upcoming events, check on scores, and learn about orienteering.
Recap Our annual Twilight Friday event was held at the Octagon Shelter Area near the Ledges in Cuyahoga Valley National Park.  Matthew Muffett was the Event Director and Steve Hendrix designed the Courses.  Many Thanks to all of our volunteers including Mark Stypczynski and Fran Kern. Results White Course: 9 controls 1 Kelly Gonyias                    37:11[…]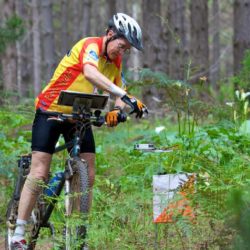 Sign up for Mountainbike-O 2016 – learn more about this event, and let us know you're coming! This race has no course arrows or other markings. Competitors read a map to find checkpoints. The course is designed so that there are usually a number of route choices to each checkpoint. The map gives clues that will help make good route choices. An explanation of the colors and symbols on the sample map are given at the bottom of this page. Electronic timing will be used at this event! You will receive a printout of your split time for each checkpoint. Starts will be at one minute intervals. You will have the choice of an easier 3 mile race or a rugged 5+ miler.
Previous
Next
Get In Touch
Need more information? Have a question? Let us know what's on your mind.