Lots of people came out for this event! We had lots of Scouts (both boys, girls, and Venture Scouts) attend, as well as club regulars. Here are the race results from the various courses, and as always, check this link for more detailed split data.
Here's the report from the event organizer, Ivan Redinger:
September 19, 2015
PRACTICE DAY
Fifteen units of Cub Scouts, Girl Scouts, Boy Scouts, and Venture Crew members gathered at the Manatoc Scout Reservation on September 19th to spend the day orienteering. Many started their day receiving instructions from NEOOC members Howard Montgomery, Andreas Johansson, Ken Lappin, and Dave Dysle.
Multiple courses for scouts of all skill levels had been designed and set by Tim Feaser and Steve Wells. Registration of nearly 150 scouts, and additional public participants, was deftly handled by Registrar KathyJo Rufener and Starter/Timer Rob Donaldson.
With the weather holding steady, scouts attacked courses all morning, and into the early afternoon. Around 3 p.m., as the courses emptied, control collectors hit the trails, including Fred Mailey, Ken, Howard, Tim, and several participating units. Mother Nature then let go with a deluge that left those volunteers soaked to the bone. Those brave enough to venture out in the torrent to attend the skull session to review the maps and strategies employed earlier in the day, were rewarded with a smorgasbord of delicious pies.
After dinner, the orienteers again gathered for a short score course Night-O, designed and set by Bob Boltz. Just before dusk, Registrar Phil Wadsworth had everyone signed in, so Starter Mark Stypczynski could get the zealous crowd off to a mass start. Timer Ken Lappin awaited them at the finish line.
September 20, 2015
CHAMPIONSHIP DAY
Representatives from 8 units participated in the competitive Championship courses laid out by Course Designer Steve Hendrix. Steve and his crew had done late night duty getting the courses ready for Sunday. His crew of setters included Greg Hendrix, Curtis Hendrix, and volunteer scouts from Troop 504.
Fred Mailey, switching hats once again, served as Registrar, while Steve Hendrix distributed maps to the participants just minutes before they headed over to Starter Ken Lappin. Timer Steve Marsh recorded their returns and tallied the results.
Units used team points accumulated over all three events to bid on useful and fun personal and troop gear. The event patches, and the award plaques for the placers, were designed by Hazel Barton.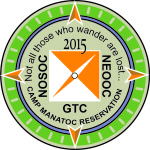 It's not too early to mark your 2016 calendar for Sept. 17 & 18, the next NOSOC weekend, when we'll all gather again at the Manatoc Scout Reservation to see who can discover fun off the beaten path.
All this, in PDF: NOSOC 2015 EVENT REPORT
Race Results
Race Results from Scout Events: Sunday & Unit Results
White Course - Scouts
  1 GS60544/StephenJohnson                    24
  2 T289/DeadMoose-Rocco,Adrian,Will          41
  3 T122/FlamingArrows                        53
  4 T122/UnknownFlyingSquirrels               56
  5 T330/Wynners-Mike,Jason,Steven            57
  6 P3506                                     64
  7 P11/GooGoo-Spencer,Ryan,John              67
  8 T289/FallingCats-James,Sean,Devin         70
  9 P3451/Bear-Asa,Thomas,Ethan               73
 10 T35/Pirates                               79
 11 T558/GreaseLightning-Ricky,Thomas         88
 12 T558/Adventurers                          90
 13 P11/ChickenWingGuac-Thomas,Mason,Jack     93
 14 T558/Outdoor Chedder                      94
 15 P3451/BLE-Ethan,Liam                      96
 16 P11/DynamicDolphins-Evon,Will,Andrew      97
 17 T35/GrisleySlash-Dominic,Miles            113
 18 GS60544/Boliva                            114
    T558/OutdoorAdventurer/Chedder-Max,Nathan DNF
    P11/DaChzSticks                           DNF

White Course - non-Scouts
  1 Scott Gill                                53
  2 Frazee                                    68
  3 Gil Even                                  77

Yellow Course - Scouts: 10 controls 3.3 km 100 m
  1 T289/Dead Moose-Rocco&Adrian&Will      60:03
  2 T122/UnknownFlyingSquirrels            72:49
  3 T330/Wynners-Mike&Jason&Steven         77:53
  4 T289/Falling Cats-James&Sean&Devin     79:05
  5 GS90233/S & S                          83
  6 P3451/Bears-Zach,Robert                88:11
  7 GS90233/Anna                           95
  8 GS90233/JNE                            95
  9 P3451/Bears/TeamLodi-Nathan&Ben        103:43
 10 T454-Matt&Jack                         110:19
 11 T35/Grisley Slash-Dominic Miles        112:27
 12 GS884/Erin et al.                      122:09
 13 T4008/OldGeezers-Ken,John,Ron          128
 14 GS90233/GBAL-Annika,Grace              160
 15 GS90054/Faith et al.                   175:14
 16 GS60544/Boliva                         201:33
 17 T558/Adventurers                       203
 18 T4008/Batmen-JJ,Casey,Winston          213
    T35/Pirates-Gary&Peter&Max             DNF
    T122/Flaming Arrows                    DNF
    T558/Outdoor Chedder                   DNF
    VC2335                                 DNF

Yellow Course - non-Scouts: 10 controls 3.3 km 100 m
 1 Robert Kish                             120
 2 Pat&Noah&Lilly                          143:38
 
Orange Course - Scouts: 10 controls 3.8 km 100 m
 1 GS60544/Stephen Johnson         62:43
 2 T289/Old Tarts-Chuck&Steve      190:22

Orange Course - non-Scouts: 10 controls 3.8 km 100 m
  1 Ryan Roppel                    90:24
  2 Howard Montgomery          NEO 91:36
  3 Kai Getrost                    97:30
  4 Jeff Perry                 NEO 134:20
    Dominic Conte                  DNF

Green Course: 10 controls 5.1 km 100 m
  1 Zuzana Kiacova                 75:03
  2 Charlotte Chung            NEO 139:10
  3 Randy Mitchell             NEO 143:46
  4 Eric Marotta               NEO 145:27
  5 Lois Wiesbrook                 203:45
    Andreas Johansson          NEO DNF
    Fred Mailey                NEO DNF
    GS60544/Stephen Johnson        DNF
    Neil Dolinger              NEO DNF
    David Farrier                  DNF

Red Course: 12 controls 6.3 km 100 m
  1 Todd Pownell               NEO 88:06
  2 Bob Boltz                  NEO 90:13
    T4008/DuctTape-Riley&Seth&Ryan DNF
Detailed Split Data
RouteGadget / GPS Tracks
If you ran with a GPS watch, or other tracking device, feel free to add your track to the RouteGadget site for NEOOC. Find it here, or through the menu above under Events > NEOOC RouteGadget
Picture Albums
This slideshow requires JavaScript.