Event Description
Join us for a potentially snowy and cold somewhat warm and rainy first event of the year at Camp Manatoc. We'll feature WHITE and YELLOW (beginner) courses, an ORANGE course (advanced beginner), and GREEN and RED (advanced) courses. The beginner courses will stay near campus, whereas the advanced courses will travel up and around one of the lakes. Beautiful views are guaranteed, and you'll be sure to stay warm from the typical terrain in Cuyahoga Valley, with lots of up and down, mixed with flatter sections to stretch the legs on.
The ground will be hard from the winter weather, and possibly covered in snow. It will most likely be wet, and a bit muddy. Route choice will be important. Good shoes with as much traction possible would be helpful on any of the courses. Snow shoes are ok, too…
Park in the main parking lot. Join us by the fire before or after the race to talk strategy, or review how you did out in the woods. Treats will be available post-race, including (a first-annual perhaps?) ice cream!
Date & Time & Event Fee
February 12th, 2017
Registration starts at 11:30 AM.
First start at 12 PM Noon. Last start at 2 PM.
Standard fee – Members: $5.00 Nonmembers: $10.00 (cash only at the event, please!)
Our club charges a nominal fee for events. The fees mainly cover the cost of printing the maps and the upkeep of the club's supplies, and for developing new maps. Special events may have additional fees. Fees listed are for a single person orienteering alone or a group orienteering together using a single map. Additional maps can be purchased from the registrar for $3, if sufficient supply is available.
Location
Camp Manatoc Boy Scout Camp
1075 Truxell Rd, Peninsula, OH 44264
Parking: Park in main parking lot, then travel on foot to registration / start area.
Registration & Finish at the Craft shelter (adjacent to main parking lot)
Staffing
Event Director – Andreas Johansson
Course Design – Andreas Johansson
Registration – Guy Russ
Greeter – OPEN (why not help volunteer?)
Control Setter – Andreas Johansson & Scouts (John Nazier)
Weather
Courses Available
WHITE, YELLOW, ORANGE, GREEN, RED
Sample Map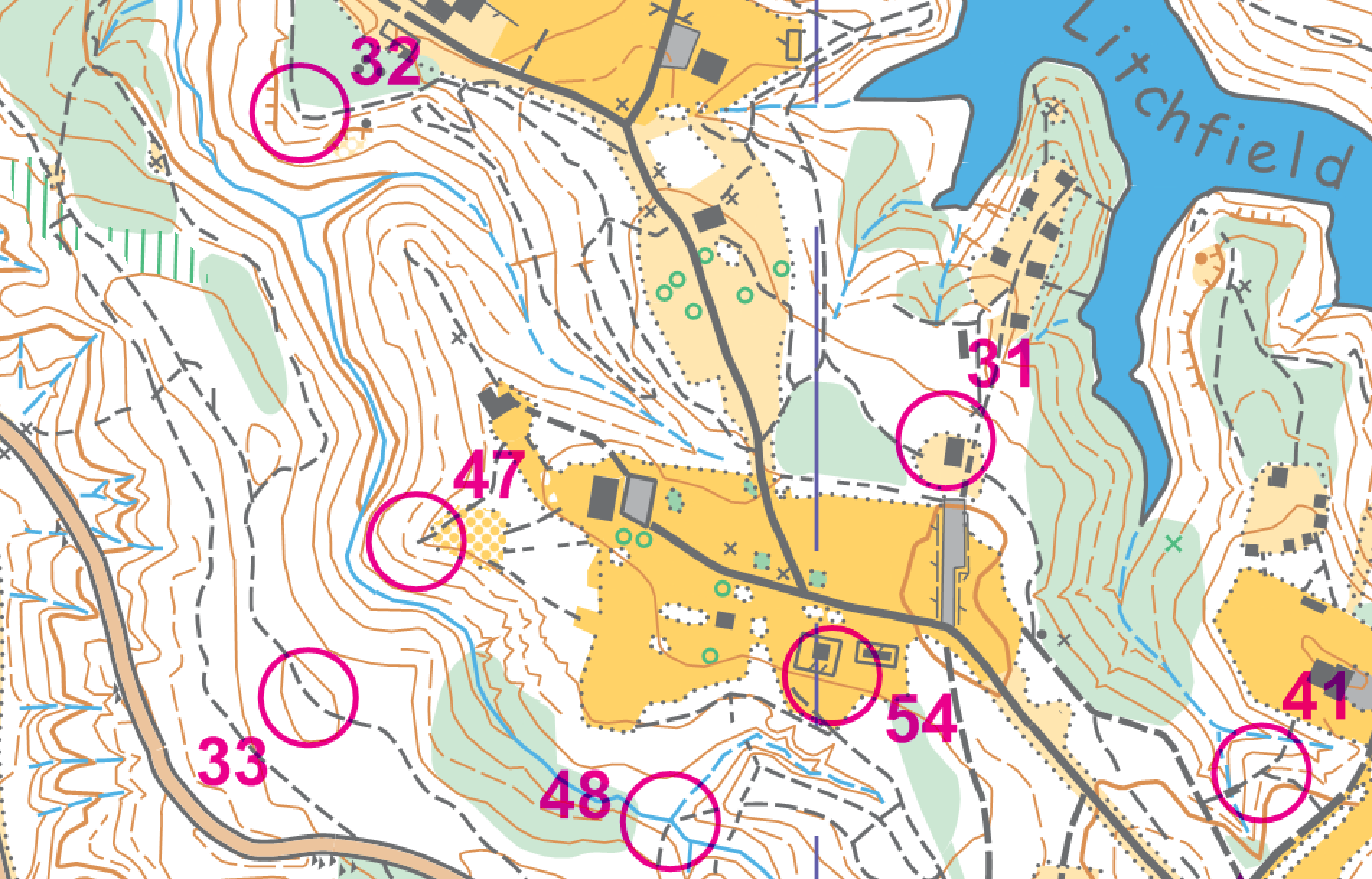 Questions?