Python Adventure Race      



Cuyahoga Valley National Park

October 14, 2017
12 / 6 / or 3 hour versions
**Read the Course Designer's Notes**      REGISTRATION WILL OPEN IN LATE APRIL

course-designers-notes-for-2016-python-adventure-race
Maps will be printed on Monday, October 9 so register by Sunday, October 8.  Sooner if you want lodging!  This is the second year for this event.  We have listened to your suggestions and will host an even better event this year!  That includes more drinking water!
Picture yourself orienteering in the beautiful Cuyahoga Valley National Park just as the leaves are changing in early fall.  Call it a ROGAINE, an Adventure Race or an Extreme Navigation Challenge.  It all adds up to a long score-style orienteering event in one of the most visited National Parks in America.  Seventy-two  flags will be spread across twenty km2.  Point values vary, so strategy is important to achieve a high score.
The tale of the Peninsula Python has been told since the summer of 1944, when some residents reported finding strange tracks on their property. Others said they saw the creature, a huge snake estimated to be about 15 to 18 feet long, that was rumored to have escaped from a traveling circus.  Hoax or not, your wanderings will remind all of the winding shape of a serpent.
TERRAIN
Post glacial down-cutting has produced a venue with lots of variety.  With its nearby outlet to Lake Erie, the meandering Cuyahoga River has settled into a kilometer wide flood plain marked by a patchwork of scrub and corn fields.  Cuyahoga means "crooked river" in the native Mohawk language.  The valley walls are steep enough in some areas to provide good downhill skiing.  The valley walls are dissected by a multitude of long branching reentrants with many brooks draining into the Cuyahoga.  In one eastern area, a layer of resistant 310 million year old Sharon Conglomerate has produced a mesa-like island surrounded by impressive cliffs.  Most of the forested area is quite runnable.  Briars are mostly found in areas of abandoned farmland.
MAP
1:12,500 printed on three overlapping waterproof sheets.  The map is a composite of five existing maps (Boston Run, Ritchie Ledges, Kendall Lake, Camp Manatoc and Oak Hill) plus the land connecting them.  The connecting land will be mapped more generally as would normally be seen on a ROGAINE map.  The Kendall and Ritchie Ledges maps were used during the 2004 North American Orienteering Championships.  One controversial control (placed by the author) even deserved its own webpage!
CORN MAZE
Yes! Pending approval, there will be a high value control placed in a corn maze.  Competitors will be given a map at the entrance.  Participants must navigate to the flag and then continue to the maze exit where you will surrender your map.  Should take only about ten minutes.
COURSE NOTES  – watch for additions
Water in gallon jugs will be available at several locations on the course.  Food is available at the NW and SW corners of the venue.  Notably, Szalay's Farm Market has fresh buttered sweet corn, custard with your choice of berries and fresh fruit. There is also a gas station a few hundred meters from the NE corner of the venue.
Rootstocks are marked with a green X.  My new mapping standard is to indicate only those that are taller than I can reach.  Some of the older maps have them mapped to a lesser standard, or they have rotted away over time.  Two of the older maps as well as the new land in between were georeferenced.  The old maps are less reliable in this regard and were a royal pain to incorporate into the composite map.
RULES & Equipment

Portable GPS systems are allowed as long as the intention is to simply record the route taken for later analysis, discussion and sharing.  Whistles are mandatory.  No help from others or caching of supplies is allowed during the race away from the base camp. If in a team, team members must stay within sight and speaking distance throughout the event.  Solo competitors are allowed.  All teams should have a working cell phone with them, however, cell reception is spotty especially in deep reentrants.

Required equipment:  ID, whistle, compass, event bib displayed front or back, cell phone turned off unless using it to call (no GPS maps), flashlight or headlamp for 12 hour folks (last two or three hours will get dark.
Recommended equipment:  Water bottle or pack, layered clothing, bug spray, snacks, money for farm market/custard, long pants.
No alcohol at Camp Manatoc.
No dogs allowed at Camp Manatoc.  Dogs must be on leash in the National Park.
SCORING & AWARDS
The point value of all control points visited is totaled. The lateness penalty will be 10 points for every minute late. Tie scores will be decided by the order of finishing times.  If in a team, all members of the team must be present at the finish.
There are three age categories:  Elite (age 20 and over), Masters (age 40 and over), and Veterans (age 55 and over).  Within each of these categories are  gender categories:  Men, Women, and Mixed.  You will be placed in the least competitive category that fits all team members.  For example, a team of three women age 40, 44, and 57 would be in the Masters, Women category.  Team members under age 20 are not considered in determining age category unless all are under age 20; then the team is Elite.
FRIDAY SCHEDULE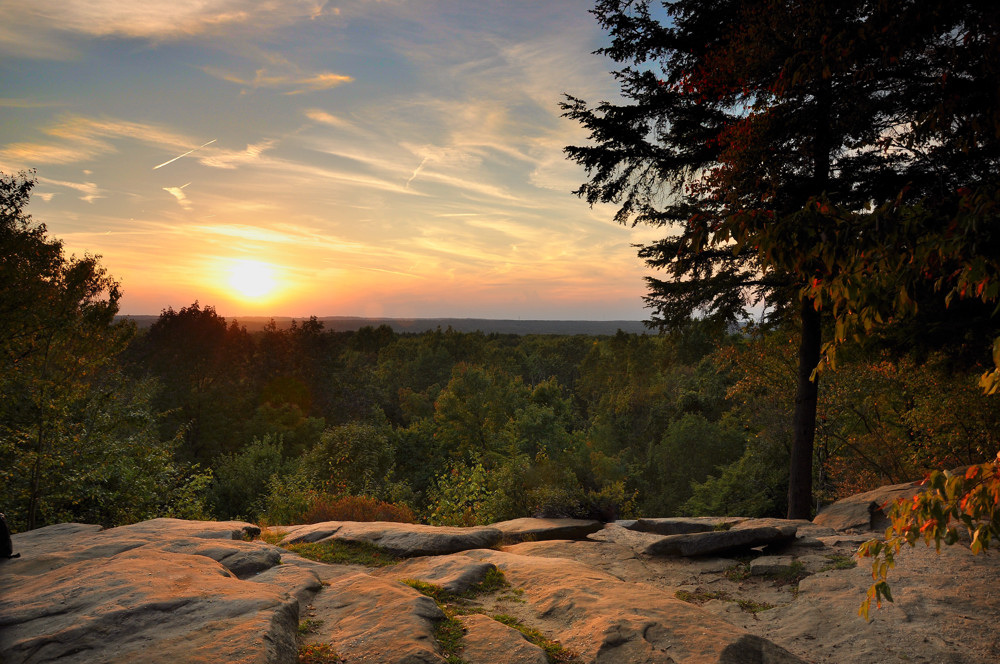 4 PM          Check-in and Cabin Assignment at Camp Manatoc
There is plenty of parking available at the event headquarters/start.
SATURDAY SCHEDULE
6 AM          Breakfast & Check-in
7 AM          Instruction and Map Distribution
8 AM          Mass Start for 6 and 12 hour
2 PM          6 hour Finish and Lunch
8 PM          12 hour Finish and Supper
The 3 hour folks can start anytime from 9 AM to 1 PM.
Sunup at 7:37 AM and sundown at 6:44.  Depending on cloud cover, forest cover and quality of twilight, a headlamp would be a good idea for 12 hour folks.
SUNDAY SCHEDULE
Clean cabin, Departure & Breakfast on your own
LODGING – register early to be assured of bunk space!

The 7 AM Instruction time makes it convenient to stay at Camp Manatoc Friday night. Many nearby motels available.  The registration page allows signing up for Friday night, Saturday night or both nights.
Cabin with indoor shower – $15
Cabin without indoor plumbing – $10
Tent $5     –  If registration charges you $10 instead of $5, we will refund the difference at the event.
Cabins without plumbing and tent folks use shower room at the pool.
WEATHER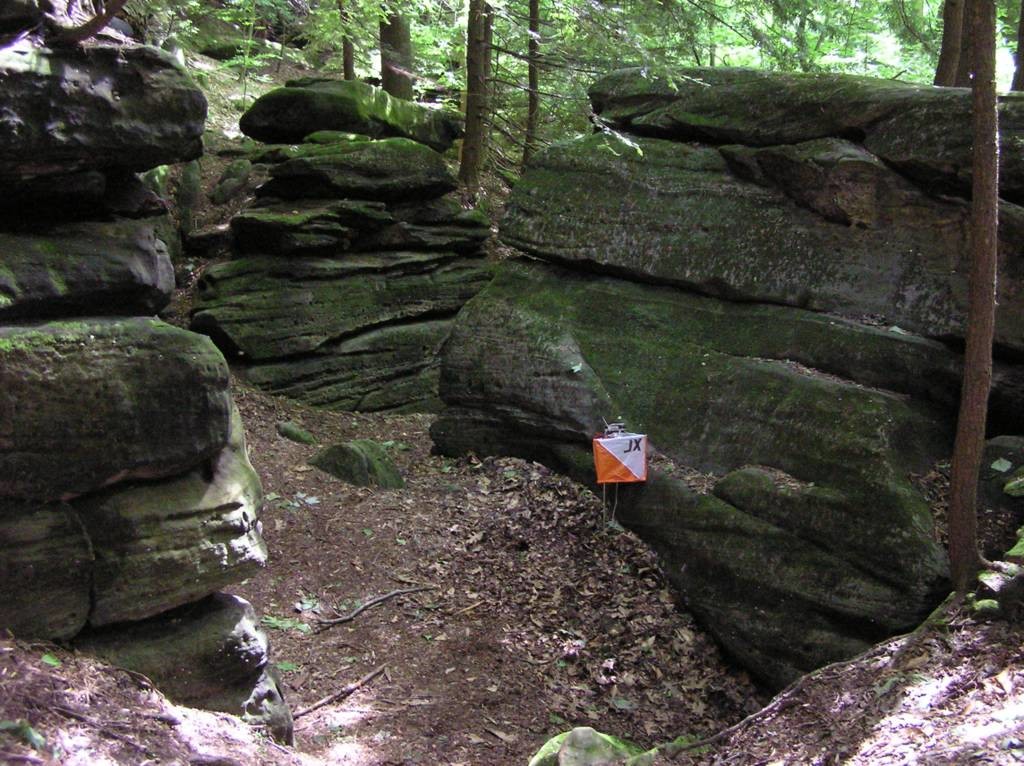 Average low 48F / 9C        Average high 65F/18C
FEES
12 hour – $40
6 hour – $30
3 hour recreational – $10 ($5 discount for NEOOC members only)
Whistle – $1 or bring your own
For teams: the first to register needs to create your team name.  The first to register on your team will receive an email that allows you to invite your other team mates to register as part of the team.
While registering, you select your meal and lodging in the "Additional Items" area.
For the 6 or 12 hour – If you are taking kids younger than 17, you can register as a solo (but will just get one map set).  Otherwise, those 17 and up all pay the fee and get their own map set.
MEALS   –  pre-order only
Saturday Breakfast – $8
Saturday Lunch – $8
Saturday Supper – $10
Sunday morning – you are on your own!
AREA ATTRACTIONS
AIRPORTS   |   Cleveland Hopkins  CLE   |   and Akron/Canton  CAK
EMBARGO  
With the exception of a local club event at Camp Manatoc, the area bounded by Oak Hill road on the west, Bolanz Road & Quick Road on the south, Boston Mills Road on the north and Akron Cleveland Road on the east is off limits for foot traffic starting the month of September, 2017 for those competing in the Python. (the park is open as usual for those not participating in our race)  Those wanting to train the week before the event are encouraged to try the Brecksville Reservation just a few miles north of our event venue.  If you are interested, I can send or post a pdf of the Brecksville map.