Sunday June 26, 10 AM
Tuscazoar Mountainbike-Orienteering
Location: Camp Tuscazoar
Dover, Ohio
Registration and instructions at 9 AM
Race start: 10 AM
**XC foot orienteering: Registration after bike race, starts until 1PM.
Cost: $15 including map and gourmet hot dog lunch & snacks.  Pre-register below!   Pay at the race.
**A regular orienteering event is also available, for runners / walkers. Registration and starts will happen after the bikes are off the course, around Noon.
How is this different than a regular mountain bike race?
This race has no course arrows or other markings. Competitors read a map to find checkpoints. The course is designed so that there are usually a number of route choices to each checkpoint. The map gives clues that will help make good route choices. An explanation of the colors and symbols on the sample map are given at the bottom of this page. Electronic timing will be used at this event! You will receive a printout of your split time for each checkpoint. Starts will be at one minute intervals. You will have the choice of an easier 3 mile race or a rugged 5+ miler.  Here is a VIDEO that shows what to expect.  Our course will differ from the video in that the checkpoints must be visited in order.  Otherwise, the video is a good introduction.
Registration for Bike Race  –
deadline June 24
Sample map legend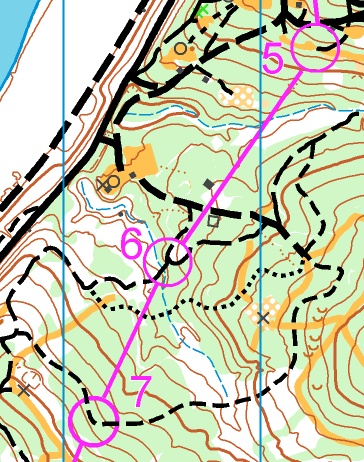 Contour lines close together indicate a steep hill. A trail running parallel to the contours is flat. There are many on-line videos that explain how to read contour maps.
Green areas are thicker forest. Where the map is left white, visibility is good.
Yellow strips are old logging roads. Larger areas of yellow are grassy fields.
Streams are blue. When you go at right angles away from a stream, you are going up-hill.
Trails are drawn to show rideability and width.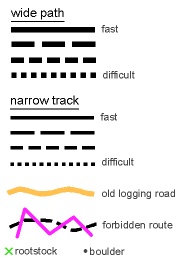 Looking at a map while on bike can be a problem. Those active in this sport have come up with ingenious methods for attaching a map to their handlebars. The best allow the map to rotate so you can more easily connect the map to the real world. A wonderful store-bought model can be found at http://orienteeringusa.org/us-teams/mountain-bike/gear. Serviceable ones have been made from cardboard and duct tape.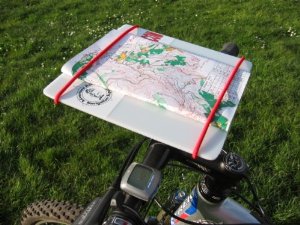 Location
Weather