ABOUT
This training is for orienteers that would like to improve their map reading skills and practice a smoother style as you traverse a course. Two different types of practice will be employed.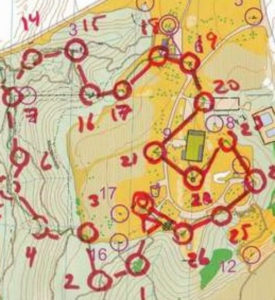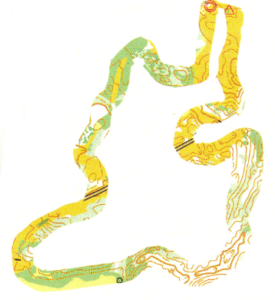 The map at top left is an example of control picking. There are many close controls with lots of direction change. The idea is to keep your feet moving, especially when you approach a flag, punch and immediately start in the direction of the next control. The thought process might go like this if you were leaving control 20: You would say to yourself, "21 left." Now you have it in mind to immediately turn left and start walking/running when you punch 21. The seconds you save if you do this at every flag really add up!
The map at top right is an example of corridor orienteering. Only a narrow ribbon of map is left uncovered. Your goal is to use compass and all the clues given on the corridor to stay within it. If you stay withing the corridor, you will encounter control flags. Punching them will prove you stayed on course! This really teaches you to stay in touch with land and map.
You will really get your money's worth at this event. Everyone will encounter 30 flags in a compact area!
There will also be two 100 meter pace count practice areas set up. One in the field and one in the woods.
LOCATION
Boston Run Trailhead, Peninsula (across from Happy Days Visitor's Center) Meet in parking lot.
REGISTRATION, FEES & START TIMES
Registration by 11:30AM, with last starts at 1PM!
Members – $5 ($3 for extra maps)
Non-Members – $10 ($3 for extra maps)
NEOOC Annual Individual Membership – $15
STAFF
Event Directors: Randy Mitchell
Course Designer: Bob Boltz
Registrar: Kim King