Recap
Submitted by Fred Mailey and Richard Davies.
It was a great night for Orienteering.  Clear sky, some stars, no rain.  And a little chill in the air.
The cross country style courses, designed by John Rasinski, provided challenges for all levels.  Green, Orange, Yellow, and White courses were enjoyed by all.  Our start and finish were at the gazebo, just east of the nature center: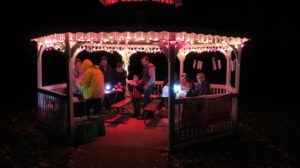 Photo courtesy of Bob Boltz.
Another great job by our volunteers:
Course Designer: John Rasinski
Control Setters: John and Randy Mitchell
Registrar: Karen Birt
Starter : Tam Delorme
Greeter and setup: Phill Wadsworth
Control Collectors: Bob Boltz, Richard Davies
Event Director: Richard Davies
Hopefully, we did not miss anyone.  If we did, let us know.
Results
White Course: 10 controls 1 km
  1 Team AM-A                      19:58

Yellow Course: 7 controls 2.2 km
  1 Team Biltz                     62:48
  2 Team Willis                    63:11

Orange Course: 12 controls 3.3 km
  1 Price                          64:57
  2 Team Mario                     107:14
  3 Johnson Witalis                108:28
  4 Team Rogers                    111:00
  5 Rich Perrenoud                 118:34
    Team Monstrocity               DNF   (86:56, punched controls 50 & 42 out of order)
    Team Freeman                   DNF   (punched 1st 7 controls)
    Mr Knapp                       DNF   (punched 1st 5 controls)
    Shannon                        DNF   (missed 2nd control 48 ...)
    Rogue Two                      DNF   (missed 2nd control 48 ...)

Green Course: 13 controls 5 km
  1 Andreas Johansson              77:08
  2 Bob Boltz                      81:41
  3 Yaki Barak  (WPOC)             100:53
    Team Muffet                    DNF   (punched 1st 5 controls)
    Phill Wadsworth                DNF
PICTURES
See some (rather dark) pictures from the start / finish area (via Andreas) here: https://goo.gl/photos/1HBoHZLB2PbHYzxW9
Resources