Event Description
The Manatoc Scout Reservation is located within the Cuyahoga Valley National Park in Peninsula, Ohio. Comprising nearly 600 acres the reservation consists of lakes, trails, fields, rustic and improved cabins allowing for varied uses during the year.
Enjoy beautiful Camp Manatoc, and run (or walk) the WHITE, YELLOW, ORANGE, GREEN, or RED courses. Camp Manatoc, and Camp Butler, offers a challenging but fun terrain, lakes and water features, and plenty of reentrants and spurs to navigate on. Littered with trails, the location is ideal for beginner as well as seasoned orienteers wanting to improve their skill.
And…
Night O score course with registration at 6:30 PM and a mass start at 7:15 PM – Find as many controls as you can in 45 minutes. Bring a flashlight! Just $3
Date & Time
Saturday, September 17, 2016
Registration (AM) 11:30 AM, with starts at 12 Noon. Last start at 1 PM.
Registration for Night-O at 6:30 PM, with mass start at 7:15 PM (45 min SCORE)
Weather
Location
Manatoc Scout Camp in Cuyahoga Valley
1075 Truxell Rd, Peninsula, OH 44264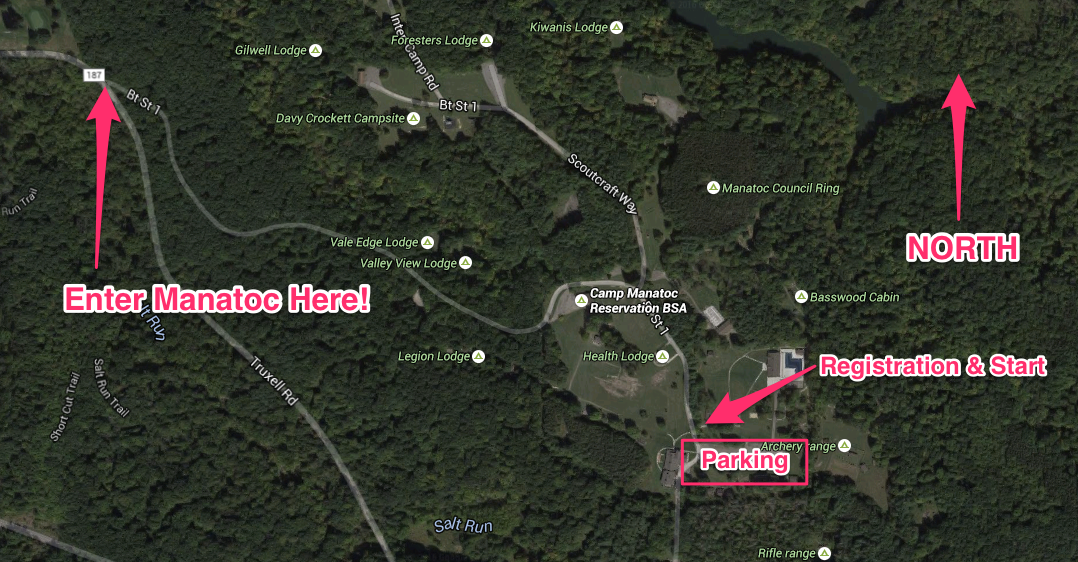 Registration Details
Registration starts at 11:30ish, with starts at 12 Noon
$5 / member
$10 / non-member
Courses
5 courses will be available, and have been designed and set by Andreas Johansson, NEOOC Club Member. This time, he's focused on using fewer controls than he normally prefers (if you ran Kenston in August, you get the idea…), so the key will be to navigate longer legs in between each control, and make both strategic and tactical decisions around the course (especially for GREEN and RED). Water will be provided on the GREEN and RED courses.
Andreas worked with a local Boy Scout, Jack Wilk, to design and set the WHITE course, as part of Jack's requirements for the Merit Badge for Orienteering. You'll remember Jack as the most excellent starter from the spring event at Kenston.
WHITE – 10 controls – 1.7 km
YELLOW – 9 controls – 2.3 km
ORANGE – 8 controls – 2.8 km
GREEN – 9 controls – 3.7 km
RED – 10 controls – 5.0 km
All distances are as measured using our course design software, Purple Pen, and are as "the crow flies". Typically, it's wise add an estimated 20-30% depending on your skill / stamina / map skills.
Sample Map
Sample map ONLY – does not show actual courses!